Using a graphic organizer in essay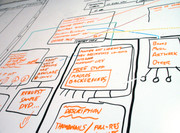 Compose better essays using graphic organizers:
It is common these days for professors to ask students to write essays using an essay graphic organizer. Students who are not familiar with graphic organizers might get worried on being assigned such a task. It is actually not very difficult.
Graphic Organizer
Graphic organizers are illustrative tools that can be used to create a summary of an essay. The purpose of graphic organizers is to visually represent the information that the essay intends to communicate in a single diagram. The headings, subheadings and sections of the essay become clear this way. Graphic organizers, if used before writing an essay not only save a lot of time, but also make it easy to compose the essay by providing a guideline. It is advisable to create a graphic organizer before writing the essay, since the writing task becomes much easier. Graphic organizer essays can also be created at Essay help. Many students use such services these days since high quality, plagiarism free work is guaranteed this way.
Types of Graphic organizers
A graphic organizer essay can be of many types, depending on the nature of the essay. It can be in form of:
• Hierarchy: A hierarchy is a pyramid based organization, which presents elements involved in a process or issue by rank and level of contribution in the overall process the topic attempts to identify.
• Spider diagram: Spider diagram is a complex figure that clearly divides the main sections, headings and sub headings under the topic.
• Process chart: A process chart is a simple, visual illustrative figure that uses arrowheads to represent the occurring of an event and the relationship and directional role of all the elements involved in the process. One example of such an organizer is a flow sheet.
• Tree charts: Tree charts are also very popular. These organizers identify the hierarchical headings and sections of the essay simultaneously, giving a complete picture.
Writing Graphic organizer essays
Following tips must be kept in mind while organizing and planning an essay graphically:
• Many different forms of graphic organizations must be studied and then the most suitable form must be decided according to the nature of the essay topic.
• It is best to use the hierarchical format if the essay is descriptive and explains a hierarchy. In case hierarchical element is absent in the headings but there are many subheadings, then the tree chart approach must be adopted.
• In case the essay deals with a process which is usually the case in essays on social issues, the flow chart type organization can prove to be helpful.
• It is best to form a mind map before writing an organization. Mind map can help in planning the essay and it can also help in deciding the type of graphic organization to be applied.
Many expert essay writing services are now available for help in essays, research papers and even for dissertation help. These experts can also be consulted for guidance and help in graphic organization of essays.
Tags: essay graphic organizer, Planning and organizing essay, Visual organization essay