Writing Legal Essays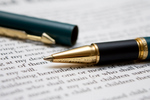 The essentials of a Legal Essay:
Writing legal essays is different from general essay writing. Legal essays tend to be more structured and focused than other essays. A writer must have ample legal knowledge to be able to write an effective legal essay. If the writer does not possess basic information of the law, there is a need to do some research on the legal issues related to the topic before attempting a legal essay.
Choosing a topic for Legal Essay:
While writing a legal essay, one issue of considerable importance is that of topic selection. Following are some suggestions for topics in this regard:
• The legal essay you chose to write can be explanatory and opinion based. This means that you talk about a certain issue, let's say for instance an important social issue and discuss it in light of the prevalent law.
• Another form of legal essay can be based on a certain law. You can write an argumentative essay, against or in favor of a certain law.
• Legal essays can also be evaluative in nature. In such an essay you can explain a law enlist its pros and cons and then give suggestions and recommendations for improvement in the law along with solid, verifiable and evidence based reasons.
Attempting a legal Essay:
Attempting a legal essay is not very different from attempting any general essay. The format is more or less the same. The only difference is that legal essays are written more straight forwardly and in simple English. Here are some tips to remember while attempting a legal essay:
• Keep your language non literary and use simple vocabulary.
• When quoting an act of any law, make sure to reference it properly.
• Support everything you write with evidence. The evidence can be either in form of a law statement, a court act, news in the newspaper or an important social event.
• Follow the instructions carefully while writing your essay.
• Study a bit before you start writing. Look up the exact acts and their clauses relevant to your topic. It is also advisable to gather information on similar laws prevalent in other countries for comparison.
• Be clear and coherent. First be sure of the point you want to make and then enhance it with supporting evidence.
• Always appreciate the good points of an act also before presenting arguments against it.
• All people are not familiar with the law, so it is best to explain an act first, describe what it is about and how it works before discussing its appropriateness.
• The conclusion must be well structured, concise and strong.
You can buy essay or have a custom written essay to suit the requirements of your specific assignment by experts who are experienced in writing legal essays. High quality essay writing services are now available online. These writing experts also offer help in custom research papers and reflective essays.
Tags: Coursework for Law, Law Essay, legal essay