Help on Application Essays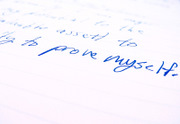 Need to write an Application Essay?
All colleges and universities demand an application essay along with the credentials and academic record of a student for the admission process. This application essay plays a crucial role in the selection of the applicants. The admission jury goes through the application essays and then makes the final decision of either granting or refusing admission to the candidates. Writing an application essay is therefore a task of utmost importance and is not a simple one.
Things to consider while writing an Application Essay:
Following are some things to keep in mind while attempting a college application:
• The field/subject applied for: Your application essay must relate to the chosen field in which you are applying for study.
• The institute applying in: Collect some back ground knowledge of the college you are applying in. When was it established, who was the founder, what are the aims of the institute etc? When you write your application essay, try to mould it a bit as per the aims of the college.
• Your source of inspiration in life: Everyone has a source of inspiration in their lives. Keep it in mind while writing and reflect it in your writing. You can even acknowledge it in the essay if it fits.
• Your future career plan: Mention your future career plan in the application essay and relate your chosen field of study to that plan. Indicate how studying these subjects will help you in attaining your career plan.
Tips on composing an Application Essay:
Following are some tips on writing. These must be followed while composing an application essay:
• Create a rough draft first. Include all the points you wish to convey in your essay. Organize these points priority wise to give it a sequence. You can also create and use a mind map if you are more comfortable with those.
• Start writing in simple, plain language. Do not attempt to use high vocabulary if you do not know its meaning. It is important to convey properly and accurately whatever you want to.
• The whole essay needs to be catchy, but try to focus more on the introduction, brain storm and try to come up with an appealing opening paragraph which engages the reader.
• Divide the body of the essay into small, understandable and coherent paragraphs. Make sure there is not repetition in the essay except of course where the goal is to lay stress on a certain point.
• Conclude the essay nicely, so that it leaves a lasting and positive image on the reader.
Consider to buy essay if you need a perfect essay. Online writing experts compose application essays flawlessly as per the requirements of the applicant. They also offer custom research paper writing services and produce excellent reflective essay on order as well. These pieces of writing are 100% plagiarism free and are crafted as per the unique instructions attached with each order.
Tags: Application Essay, College Application Essay, essay application