Essay Editing is an Important Part of Writing Process
Essay Editing Requires Good Language Knowledge and Attention to Details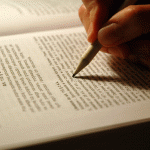 Essay writing is not an easy task and it consists of a number of steps that should be followed in order to complete your work. The student should have a good knowledge in the particular subject, the ability to think and research and some writing skills. Most of the students feel uncomfortable writing their essays and the most common reason is poor essay editing.
Essay editing and proofreading is the final stage of your work and it seems to be rather simple but it is not so easy. It can be troublesome job to find and correct grammar, structural and punctuation mistakes. Besides, there may be some sentences or even paragraphs that you need to rewrite or even to delete. Such a situation has become a real trap for young and inexperienced writers and needs to be explored closely. This article will describe the most common tips of the essay editing process. You will come to know how to do it in a proper way, checking your essay slowly and carefully.
First of all, check your paper with a word spellchecker. It is an easy task and you do not have to buy the program. Most of the institutions require your paper to be written in MS Word which has a built-in checker. Make sure you have chosen the right language type and check your work for grammar and punctuation mistakes. Nevertheless you have a checker in your hands, think about each word, each sentence and each comma, as the program can also make a mistake.
The next step is to check your writing manually. Print a rough copy, take a pen and check every word of your essay. Do not check it on a computer screen, as it is much easier to find the mistakes on the paper. Read your thesis statement first and think if it is clear to understand. If it is too long or too narrow make necessary corrections and rewrite it.
Read your introduction part carefully and think if it is interesting and informative enough. Be sure that the first two-three sentences can intrigue the reader and make him read the whole essay. The introduction should also contain your thoughts and opinion that will be described in the main body part.
Check the structure of your essay. The main body part should have strong logical relations and should be free of the senseless sentences. One statement should be followed by another one just like it is written in your introduction part.
The conclusion should refer to your thesis statement. Pay special attention as it is the last thing the evaluator sees and the first thing he remembers.
The last stage is to read your essay aloud and ask somebody to listen to you.
You can get some more information on the essay editing at Samedayessay.com. Our professional writing team will provide you with the full range of editing services as well as the custom writing possibilities.
Tags: Essay Editing, Proofreading Essay