Turn the Process of Personal Statement Essay Writing into a Fun Experience!
Some Hints on Personal Statement Essays Writing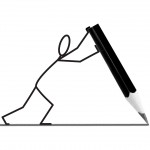 For most of the students personal statement essays are one of the most important and at the same time difficult tasks they can ever write. This type of writing is not easy since it requires some self-analysis and focusing on the principle things because the author's further academic career is at stake.
Writing a personal statement is a nice chance to present you in the application process. This type of essay may be of two kinds:
The general personal statement that gives you some freedom to select what you want to tell and write about.
The answers to the definite questions. In this case the student will be given several questions that he or she should answer.
Before starting the process of writing a personal statement essay of any kind it is important to ask yourself some questions.
Try to think of your distinctive features or unique skills. You need to present yourself using some details from your life story that can distinguish you among all other applicants.
You should tell when the field you have selected became interesting for you, what you have already achieved in studying it and your further plans about it.
In case you have worked somewhere you need to tell about such experience and all useful skills and knowledge you got there. Don't fail to mention what personal characteristics can improve your chances for success in the chosen field.
Besides the above given information it would be useful to consider the following recommendations.
As a rule it is quite acceptable if you tell a story about yourself. You can demonstrate your skills through some definite experience. But remember that you should not bore the admissions committee. For that reason make sure your story is dynamic, fresh, and special, so that you can put yourself ahead of all the rest with your creative essay.
Keep in mind that the opening paragraph of your personal statement essay is usually the most important. Here you can and should grab the attention of the reader  and not to lose it by the end.
It is very important that you write correctly and coherently. Here you should not be afraid to be too meticulous and scrupulous. When your essay is ready you need to proofread it thoroughly. Be sure that excellent written skills and correct use of language will bring you some additional points.
Remember that personal statement will show your intellect and personality. For that reason it is important to prepare it outstandingly. There are a lot of various methods of writing personal statement essays. But the most reliable one is probably buying essays. In this case you should just place your order at some reliable custom research writing vendor, such as Samedayessay.com You can always be sure to get professional assistance there. Essay writers of high qualification will be glad to assist you. Your admission essay will be unique and thoroughly done, so you don't need to spend long hours and days writing and worrying about the results. Besides, all the works are carefully checked and 100% plagiarism free.
Tags: Personal Statement Essay, Personal Statement Samples, Personal Statement Writing